Janice Fiamengo Silenced by Feminist Thugs
Featured
April 24, 2014
Warren Farrell: Gender roles
Rod Van Mechelen: Can Feminists Lose?
Phyllis Schlafly: Feminists & Mother Nature
Scott Johnson: Obama's war on women
---
Sex: Pro-Woman, Anti-Feminist
April 24, 2014
Andrew Moran: The Gender Pay Gap – A myth that persists
| | |
| --- | --- |
| | Shredded Beast: This book revolves around the Shredded Beast training program and nutrition protocol. It provides an addictive, customizable approach to burning more fat, building more muscle, and lifting more weight. | Read More |
2Wycked: The Obsolete Man: The Death Of The American Mind
Christian McQueen: How To Get Respect As A Man
Oracle Z: Is Modern Man Becoming A Sexual Scavenger?
Billy Chubbs: What Real Rape Culture Looks Like TheOnion: White Male Privilege Squandered On Job At Best Buy
Feminism Protest Shows Why The Movement Is Dying
Jason: Gender disparity in school discipline ignored
Spearhead: I Can't Believe I Missed the Feminist Porn Conference
Spearhead: GitHub Founder Forced to Resign after Catfight
Spearhead: Woman Flunks USMC Officer Training Course, Blames Female Privilege
Spearhead: Why "Equality" Doesn't Work in America
Spearhead: The Men's Rights Movement Should Change its Name
Rod Van Mechelen: Can Feminists Lose the Political Gender War?
Spearhead: "Hypergamy" Enters National Political Lexicon
Spearhead: Kirsten Dunst Offers Reasonable Opinions on Marriage, Sex Roles, is Immediately Attacked
Phyllis Schlafly: 'Feminists are at war with Mother Nature'
Scott Johnson: Obama's war on science and gullible women
Warren Farrell talks gender roles at Princeton University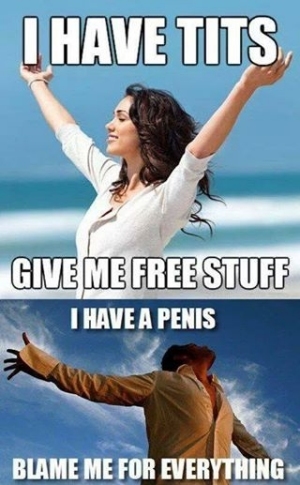 Why do I include links to crimes committed by women but not men? To counter the stereotype that all men are violent and all women are victims. The stereotype is a lie. Some men are violent. The reports about violent women prove that neither women nor men are better than the other. We are all just people.
---
Health: Defy Disease & Thrive
April 7, 2014
Michael Snyder: 10 Health Conspiracy Theories That Turned Out To Be Real
The SSRI/Folate Connection: Why Big Pharma May Want to Monopolize the B Vitamin You Can't Live Without
NPR (and Other Major Media) Spreads Serious Falsehoods About HPV Vaccine
FDA Needs a Lesson in Supplement Science
Brownstein: Statins More Than Double Breast Cancer Risk
Brownstein: Autism Rates Skyrocket Higher
Pearson & Shaw: Improved Galantamine Formulation at No Extra Cost
Block: Diabetes and H. Pylori Intensify Alzheimer's
Block: What Makes Life Enhancement Different?
Pearson & Shaw: Reducing Damage Done by Evolving Heart Attack with Simple Inexpensive Method
Pearson & Shaw: Simple Test for Heart Function Is Powerful Predictor of Mortality
Pearson & Shaw: Blood Test Provides Highly Predictive Data on 10 Year All-Cause Mortality in Older Adults
Pearson & Shaw: Depressed? Having Pain? Turmeric Root to the Rescue!
Faloon: "Unsustainable" Cancer Drug Prices
Wright: Heartburn drugs are linked to serious heart risk
Wright: There's no evidence that saturated fat intake harms your heart
Wright: Spark your natural vitality back into action with this Siberian secret
More News in
Archives!
Sprott Money News: Koos Jansen
Featured
April 24, 2014
Henry Bonner: Battle for Osisko Mining
David Stockman: Leveraged Recap Binge
Greg Guenthner: Current "Bubble"
Jeff Nielson: Secret Silver Stockpile
---
Money: Opportunity & Prosperity
April 24, 2014
Cold Fusion: CHP and its Future With CF/LENR
| | |
| --- | --- |
| | All the Presidents' Bankers: The Hidden Alliances that Drive American Power Nomi Prins' groundbreaking narrative of how an elite group of men transformed the American economy and government, dictated foreign and domestic policy, and shaped world history. | Read More |
JB McMunn, M.D.: Perils and Pitfalls of Corporatized Medicine
Bhanu Shandilya: That Atrocious Deflation Monster
Wolf Richter: Fed's Wealth Effect
Prepared for the Attack of the Short Sellers: Joe Reagor
Kip Keen: Platinum strike: No agreement yet, but talks continue
Shivom Seth: Chorus to lower gold curbs grow louder in India
GSW: Gold Sentiment Reaching Key Level
Jeff Nielson: The Secret Silver Stockpile, Part I
Christian Veit: World finally waking up to reality that lowering interest rates doesn't fight deflation, it causes deflation
Matt Levine: Lawyers Sue Stock Market for Being Rigged
Christian Reiermann and Anne Seith: ECB Considers Possible Deflation Measures
Charles Hugh-Smith: This Is How Empires Collapse
Gail Tverberg: Eight Energy Myths Explained
Zero Hedge: Biogen Stock Rallies After Admitting Feds Probing "Sales & Promotional Practices"
---
Health - Continued
April 7, 2014
Wright: Risk of one of the least fatal cancers could be lowered to almost zero
| | |
| --- | --- |
| | Grain Brain: The Surprising Truth about Wheat, Carbs, and Sugar--Your Brain's Silent Killers: The devastating truth about the effects of wheat, sugar, and carbs on the brain, with a 30-day plan to achieve optimum health. Renowned neurologist David Perlmutter, MD, blows the lid off a topic that's been buried in medical literature for far too long: carbs are destroying your brain. | Read More |
Stockton: Omega-7 Protects Against Metabolic Syndrome
Tompkins: CoQ10 Proven Benefits In Heart Failure Patients
Sisson: 11 Surprisingly Effective Exercises You Can Do Without Being "That Guy" in the Office
Sisson: Slow-Cooked Chicken Adobo with Coconut Aminos
Sisson: Cultivating Health During Crisis
Sisson: The Definitive Guide to Resistant Starch
Sisson: Why Squatting Is So Important (plus Tips on How to Do It Right)
Sisson: Homemade Beet and Berry Jello
Sisson: When All You Want to Do Is Sit on the Couch
Sisson: What Did Our Ancient Ancestors Actually Eat?
Sisson: Are Antioxidant Supplements Effective?
Louis: Texas farmers fear arrival of new Dust Bowl
Huff: Japanese physicians link spike in cancer to Fukushima radiation
More News in
Archives!
Julie Borowski: Why Care About Marijuana?
Featured
April 23, 2014
Simon Black: 302 reasons
Michael Snyder: Common Core Insanity
Patrick J. Buchanan: Nationalism, Not NATO
Zero Hedge: Putin's $40 Billion Stash
---
Politics: Freedom & Liberty
April 23, 2014
Marc Faber: The Real Reason the US Media Hates Vladimir Putin
| | |
| --- | --- |
| | The Rule of Nobody: Saving America from Dead Laws and Broken Government Rules have replaced leadership in America. Bureaucracy, regulation, and outmoded law tie our hands and confine policy choices. Nobody asks, "What's the right thing to do here?" | Read More |
Ron Paul Warns: The Nevada Standoff Is A Symptom of Increasing Authoritarianism
Jason Ditz: At Least 46 Killed in Two Days of US Drone Strikes in Yemen
Derrick Broze: Onondaga Nation Continues to Fight United States Government Over Broken Treaties
Scott Lazarowitz: No Room for Statism in the Libertarian Tent
Laurence M. Vance: The Rotten Ryan Republican Budget
Llewellyn H. Rockwell, Jr.: Do We Need a Thieving, Warmongering Ruling Class?
Daily Bell: More Evidence That Consolidated Global Power Is Wielded by a Tiny Elite
Wendy McElroy: The Next IRS Tactic vs. Expats and Accidental Americans?
John McCormick: Paul seeks to cut into Democratic base in Obama's hometown
Rebecca Shabad: Paul to Dole: Lack of experience could be political advantage
Thomas Beaumont: GOP presidential prospect Rand Paul promotes school choice in Chicago as way to expand party
Daniel Doherty: Dem Rep. Discussing Obamacare: "It's Going to Hit the Fan"
Simon Black: 302 reasons to jump ship
Mac Slavo: The Risks Are Massive
Michael Snyder: You Won't Believe The Method That Common Core Is Using To Teach Our Kids Subtraction
Michael Snyder: What Will You Do When You Can No Longer Buy Or Sell Without Submitting To Biometric Identification?
Patrick J. Buchanan: Nationalism, Not NATO, Is Our Great Ally
Benjamin M. Wiegold: With Government Roads, the Customer Is Always Wrong
Zero Hedge: Why Putin Is Smiling At The Bond Market's Blockade Of Russia
Zero Hedge: This Means War: US To Target Putin's Personal $40 Billion Stash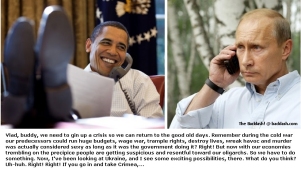 Obama & Putin Crimea Call - Click to Enlarge
---
Health - Continued
April 7, 2014
Devon: Breakthrough technology removes arsenic from groundwater
Michelle: Salad eaters, rejoice! Study shows beneficial nutrients enter bloodstream
Cummins: Corporate Clout Chips away at Organic Standards
Chow: Zinc deficiency mistakes you might not realize you're making
Gutierrez: Chia seeds contain 7.5 times the omega-3 content of salmon, as well as the highest protein content of any edible seed
Adams: The three most dangerous poisons to never eat, drink or inject again
Antonia: Boost male fertility with the right foods
Gutierrez: Vitamin A derivative helps turn precancerous cells back into healthy ones
Chow: 10 quick tips to overcome insomnia and ensure you're sleeping well
Wright: Enjoy a cavity-free future by fortifying yourself with these foods
Heyes: Fort Hood shooter on Ambien, antidepressants and a 'cocktail' of mind-altering meds
Gutierrez: Radiation 'therapy' kills children with brain tumors who might otherwise survive just fine
Bedar: Fertility Secrets: How to create your get-pregnant plan unveiled by 20 holistic experts in new empowerment program
Miller: Why just treating symptoms will never result in true health
Ravensthorpe: Unhealthy food cravings are a sign of mineral deficiencies
Alexander: Cancer treatment found in a tree
Gutierrez: Tuna is the #3 cause of food poisoning in the United States, but not because of bacteria
Huff: Vaccines kill far more people than faulty Chevy Cobalt cars, but drug makers are granted total legal immunity
Huff: Chocolate generates anti-inflammatory nutrients in your gut
More News in
Archives!